On this episode of Conscious Design Podcast, Ian welcomes Kavita Shah of Boxed Water to chat about sustainability, marketing, and how Boxed Water began. Kavita starts with the origins of the business and what brought her to marketing. Ian and Kavita talk about sustainability and what have been the challenges and successes of marketing a sustainable product. As a mission driven brand, Boxed Water has built amazing partnerships with other mission driven brands, like Alaska Airlines. Kavita shares her insights about how to market sustainable products and what she has done to increase the awareness of Boxed Water and their main mission. Kavita and Ian then talk about how material choice has helped them to create a sustainable business.
Parts:
0:00 – Guest Intro

4:04 – Marketing Sustainability

11:00 – Subscribe!

11:26 – New Materials

18:17 – Guest Outro
About Kavita Shah and Boxed Water:
Kavita is a senior marketing leader with expertise in scaling CPG brands like Dyson, Godiva, McVitie's, and Meatless Farm. She has a passion for brands within the food and beverage space, particularly in the natural and sustainable space. She's currently the VP of Marketing at Boxed Water and resides in NYC.
Boxed Water is the most renewable package in the water aisle and was the first company to launch a sustainable water alternative to plastic bottles and aluminum cans.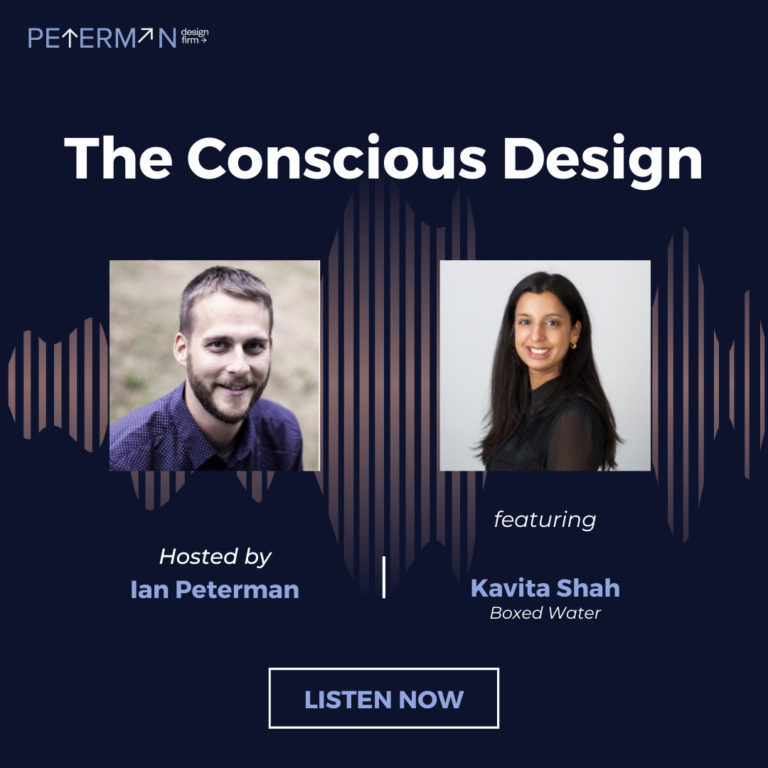 check out the video version here
Hosted by: Ian Peterman, CEO and founder of the Peterman Design Firm
Developing your own product or brand?
We'd love to help your project be a success.
Learn more about the Peterman Method™
Welcome back to another episode of the Conscious Design Podcast and today Ian welcomes Ellie Porter. Ellie starts off with a bit of her backstory
Read More »
Welcome to another episode of Conscious Design Podcast with our amazing guest Daniela Caine. She's the founder of Koryphae, a high-vibrational clothing brand for conscious
Read More »
Welcome back to another episode of the Conscious Design Podcast, and today Ian welcomes Lauren to the show. Lauren starts off with a brief introduction
Read More »
Have a question you want answered? Submit your question for a chance to have it answered and a shoutout to you on the episode!
Do you have a conscious design product, brand, or experience you'd like to share? Apply to be a guest on our podcast!