User experience design – or UX design as you may see it written- is an often bandied around term, but do you know what it means and why it matters for your branding and marketing?
The role of experience design incorporates marketing, branding, customer experience, and design thinking to allow your customers to develop an emotional and visceral connection to your brand. Without overstating the fact, the quality of your experience design can ensure you stand out from your competition and drive loyalty and customer satisfaction rates sky-high.
your guide to user experience design
Here we'll give you all of the information you need to make an informed decision about how your business contributes to its customer experience and the best way to hire a qualified UX designer and manager.
What is User Experience Design?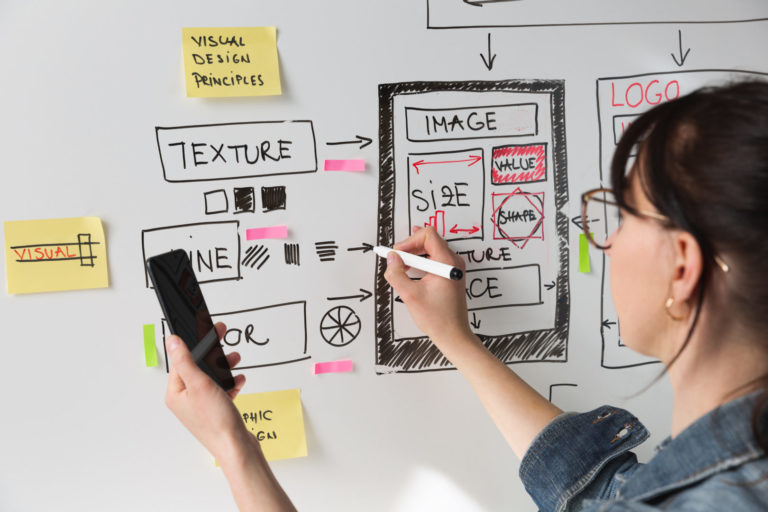 To understand user experience design, it helps to break it down into its components. Firstly, you have your user experience. This is how your customer or client feels when they interact with any of your business systems. It can relate to your mobile app, your website, your desktop software. Mainly, any way in which a human being interacts with your technology incorporates UX design. And it's vital to get it right, which is where experience design comes in.
Design thinking helps you to understand and anticipate the best way to solve your customer's pain points and provide them with answers to their questions. You can also incorporate this into your branding and marketing to guide your customer through the sales funnel. It's important to remember that there is no one way to do user experience design. Instead, it involves research and understanding of your ideal customer and how best your product can entice them.
At its most beautiful, user experience design factors in all of the unique factors that your customers face and anticipates them in a way that fulfills their needs.
Unfortunately, if there's no one way to perform experience design, that means there's not one particular price-tag. However, there are pricing elements that are standardized across any project.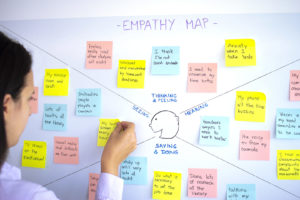 Usually, in UX design, your designer or firm will estimate a price for the project based on specific timelines, milestones, and deliverables. The delivery brief will help to give you an idea of what you can expect, and where you're spending your money.
However, the dollar prices will vary greatly depending on the scope of the project and your designer's experience. While cost isn't necessarily indicative of quality, it's essential to remember that experts in design thinking do far more than make something look pretty.
Incorporating design thinking, branding, marketing, customer experience, and project management should be thought of as an investment. It can easily be one of the leading contributors to the success of any project. High quality, well-executed UX can give you an incredible ROI by delivering you loyal customers, impressive reviews, and great word of mouth.
What is the process of UX?
The UX design process can vary slightly depending on the designer. However, user experience designers typically use what is known as a "design thinking" approach. Design thinking incorporates five steps.
Learning and empathizing with the users
Defining the problem and identifying the needs of the user
Ideation and generating design ideas
Prototyping to turn the ideas into examples
Testing and evaluating the design
Carefully managing these five stages will ensure the project stays on brief and is delivered in time.
Given these five components, it means that to find a customer experience designer, you want to be looking for someone who can satisfy all five areas. Therefore, some traits of successful UX designers are:
Strong communication skills and collaborative skills
From your marketing department to your branding, your UX designer will need to collaborate with every strategy. This includes things from business goals to content rollout.
While the elements of great design come with talent. The specific focus of experience design requires someone who can understand the data that goes into your business.
In many cases, this can be a highly specialized skill all on its own. Typically, this kind of writing is distinct from other forms of content because it must communicate quickly and clearly, with very few words.
Remember, customer experience is about guiding a person through the process. So, that means having a solid understanding of how to arrange information effectively.
Wireframing and prototyping
Visually presenting information and testing its effectiveness is a significant portion of the experience design process.
There are plenty of sites out there where you can hire qualified and talented UX designers. Places such as Toptal and Design Directory will help introduce you to freelancers and firms. These both allow you to see high-quality portfolios from experts in their field.
However, you may find that your understanding of the customer experience process could use some extra support. Here's where a talented team like we have at Peterman Design Firm can help guide you through the process while ensuring that the project stays on track.
How does UX fit into product design?
Fundamentally, UX designers focus on user satisfaction and ensuring that the product can satisfy the user's needs. UX designers design with user interaction as their primary focus. This ensures they're continually improving the usability and accessibility of the product.
A UX designer will take control of the full scope of the design thinking process, from the research to the ideation, and remain people-driven at all times. Getting into the user's mindset is integral to a UX designer's role, as is both user testing and prototyping. In short, the UX designer is responsible for ensuring the product is as optimized as possible for the user.
What tools are used for UX?
While each designer may have specific tools that they prefer to use (are you sensing a theme here?), you will find that particular systems and software crop up repeatedly.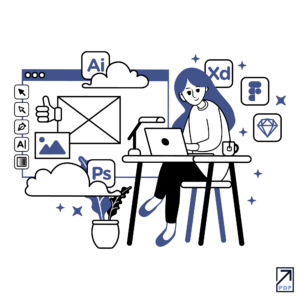 For user research, analytics, data, and testing, Invision is a helpful tool. It helps the designer to find the vital information they need for the design thinking process. Figma and Sketch are both popular tools that help the design process. They do so while also allowing the designer to create web or app layouts and create prototypes.
Adobe Xd, Principle, and Framer are tools that allow designers to create animated and interactive designs. You may already use some of these tools for branding and marketing, so it's always worth checking to see if a designer can work with systems and tools you already have in place.
Final User Experience Thoughts
When it comes down to brass tacks, a compelling customer experience designer understands how a bespoke design can profoundly impact your users.
It can help a designer ensure that you understand what you're hoping to achieve. Having an idea on where you need their help in achieving your goal can also be helpful, but not necessary. But ultimately, the process is an investment in the long-term communication of your brand and mission to the world.
Learn why your product needs a brand before you start
Learn 3 ways to get market research for your product
Related Conscious Design BLOG Posts
Chair ergonomics are key to the health and productivity of people everywhere. Understanding ergonomics allows us to create better products.
Read More »
Packaging design is important for every product. It creates an experience, opportunity to educate your customer, and is a sales tool.
Read More »
Ergonomics matters, greatly. It's spoken about by many people, all over the world. And yet, I find myself still coming across products where ergonomics were not factored into its design enough.
Read More »