No matter the size of your business or organization, you should have a Style Guide. Creating a Style Guide will help build consistency in your brand, something new brands need too. Get that process right at the beginning, and you'll enjoy smooth sailing later on.
A style guide is the documentation of all the ways your brand can be presented to the public and includes your visual and language choices.
Creating a useful style guide makes it easy for more than one person to work on different aspects of your business but still produce the same brand tone of voice.
Brand consistency is a crucial feature of any successful marketing plan, and ensuring you have a style guide is the easiest way to make sure that people know what to do.
A key benefit of any style guide is that no matter how many people you have working together, your brand voice will stay strong and consistent throughout. As branding and brand voice increasingly becomes a driving force behind customer loyalty and retention, this is something that definitely shouldn't be left to chance.
Think of your style guides as living documents that people can use daily to increase your brand consistency across all channels.
Do you know why you recognize the Apple logo? Or the Nike swoop, or the McDonald's arches? It's because everywhere they appear, these logos are consistent across the board. As are their colors, their photographs, their typography, and their visual layouts.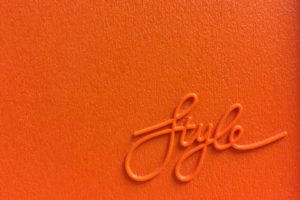 But it doesn't stop there.
A visual style guide allows you to demonstrate how your company graphics should appear – on any website, in any publication, across any screen type.
It might seem like a minor point in the beginning, but as your company grows and expands, this kind of brand consistency helps you to establish your brand as authentic and consistent.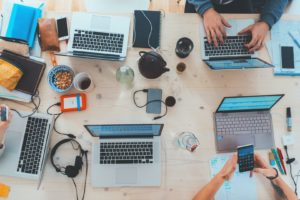 As the name suggests, your editorial style guide addresses the rules for how your company speaks to your clients – whether that's in your blog posts, your chatbots, your AI, or your customer service email.
An editorial style guide will specify everything from whether or not you use active or passive, through to any word-specifics to your business.
Style Guide vs Brand Book: do I need Both?
Those of you who have read our article on the Branding Process may wonder if a style guide is the same as a brand book. They cover the same areas and are both crucial for ensuring that your brand becomes a recognizable voice in the market.
The simple difference is this: the level of detail.
Usually, a style guide is 1-2 pages max and is a working document to use on one particular project or in one area. This means that a style guide is much quicker to build and costs less to compile.
However, while a practical style guide will explain details behind your brand, it does so explicitly through the lens of a brief. For example, if you were designing product packaging, you might incorporate a guide that specifies your fonts, logo usage, and the kind of language that a visitor would see on your website or Twitter feed.
On the other hand, when we create a Brand Book, we are compiling often 20-50 pages of information. This includes things like design rules, the mission, vision and ethos of the company, and customer definition. A Brand Book contains far more detail and information and is tremendously valuable when more than a handful of people are involved in the promotion, presentation, and management of the brand.
At the very least, you need a style guide and if you are a startup it's a great place to start. As you grow and want to make sure your brand remains solid, it's a smart decision to get a brand book put together for you.
While we're more than happy to help you build your entire Brand Book here at Peterman Design Firm, not everyone needs that level right away. We create style guides for many of our startup clients and then later put together a Brand Book. We can also work with your existing branding to create useful and practical guides for your project or company.
Different types of branding
Products, companies, and people all get different branding.
Fill out a project brief to get your project started.
Related Conscious Design BLOG Posts
A feasibility study is a very important step in making sure a product will be successful. I break down what they are and why they matter.
Read More »
As the Internet of Things has grown over the years, smart products have become a pretty hot item. Many people have product ideas for turning
Read More »
Wondering about Market Research & Analysis? This will give you a few tips on what it is and how to start your own research.
Read More »