When looking for help developing a new product, your first thought might have been to find an engineer. And why not? Everyone knows that engineers design and make things. Not everyone is aware that industrial designers exist.
Then there are those of you who thought you needed a designer and nothing else! Ideas like, my product is simple and doesn't need to be engineered. Engineering can sound complicated and overwhelming to some. I've witnessed arguments between designers and engineers, each claiming the supreme ability to create a product without the other. They are both wrong and there is far more here that just picking a side. Each has their own strengths based on their skills and training.
I have the firm belief that a great product development team has both designers and engineers. And I'm not alone since most companies who create products have both. In my opinion, mechanical engineers and industrial designers are two sides of the same coin. To be successful at developing a product, you need that coin to make a product.
So, let's break this down and talk about which skill set is best at what and what will be optimal for your project.
The 3 Things you Need to Know
1. Engineers Are More Data & Manufacturing Focused
Generally, engineers are more data and manufacturing focused. Things like sourcing components, building supply chain, working with vendors and suppliers, setting up production, and quality control are all in the engineering world. Aesthetics, branding, emotions, and user experience is not typically their area of expertise.
Not to say there aren't engineers who can, but their focus is not design, it is engineering. Engineering is also typically in the middle to end of the development process. They don't create concept renderings or work in the fuzzy front end of the design process.
2. Industrial Designers Are More Focused On the Intangible
Generally, industrial designers focus on user experience, style, and brand. The things that are intangible and affect the way people feel and relate to the product. Industrial designers are often at the front end of the process. Costing, design for manufacturability, and working mechanics are not their specialty.
There are industrial designers out there who know and understand manufacturing processes, sourcing, and can work with the technical part of production. However, most of the industrial designers you see with the cool portfolios are focused on sketches and renders. This is considered concept work and is on the front end of the development process.
3. You want both, and probably need both too
At the end of the day, you someone who's gone through the entire process and can do everything from the industrial design part to creating engineering drawings for manufacturing and setup supply chains. Now, finding that in one person is rare, as I've discovered. I've worked in every part of the process but changing careers several times within a few years to get that experience isn't what most people do.
You will need both skill sets if you want to take your product all the way from idea to a customer. So, it's likely that you'll need two people, unless you find someone like me.
Can you work with just one?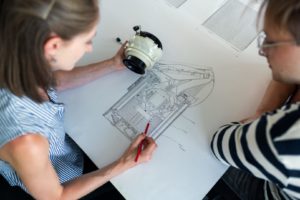 You can absolutely work with just one. I've seen many successful products come from a single engineer or industrial designer. These are often more simple products and usually hired by a startup or inventor.
With larger budgets, you typically just hire a firm that has both on their team. So yes, this is possible. Would I recommend it unless you absolutely had to? No. I'd definitely recommend making sure you had every skill needed involved in the process to make sure the best outcome possible. However, you can do it.
With that in mind, how do you choose, or really, should you have to? The answer is no. There are people like me in the world between engineering and design. I like to just call us Product Developers.
There is no degree for this, it comes only with years of experience on both sides of the coin bringing products from a concept to a manufacturable product. It usually means essentially changing careers a couple times to get this experience. However, it pays off in my opinion.
When you want to turn an idea into a product, you should really be looking for a Product Developer. They may have only one degree, though I've met some that double majored in industrial design and mechanical engineering. Of course, the cherry on top would be a triple major with electrical thrown in there too. I rely on my team for the electrical myself, I know just enough to be dangerous as they say.
Product Developers can talk about manufacturing processes and stress loads, as well as talk about how a product elicits emotion from a user. Their experience is usually broad, and they truly understand the entire process, concept to production, of a product, whether that product is a baby toy or an industrial laser.
You may find yourself asking the question, when do I need an engineer to do that scary math? Well, when you work with a good Product Developer, they can handle almost anything. If you need real analysis or an engineering stamp, then you can hire a specific engineer for that portion. That level of engineering requires a PE (professional engineer) and typically is only with products that are structural in nature, such as steel barns. For most products, you won't need that level of engineering.
If you get to a point where an engineer is needed, or a manufacturer should be brought in, a good Product Developer will tell you and help bring on the right people to get your product into production.
Here at the Peterman Firm, we build flexible internal and external teams based on our client's project needs. This means we have industrial designers, mechanical engineers, and other experts allowing us to be a full scope product development partner. Our teams are experts at developing quality products.
5 Ways to Use Concepting Ideation Effectively With Your Designer
What Is Electrical Engineering?
Related Conscious Design BLOG Posts
I'd like to go over a few things that you shouldn't do with your designer, unless you don't want to work with them of course.
Read More »
When working with a product developer, there are two types of programs you should be familiar with. While there are many options for each one,
Read More »
These top 5 issues are avoidable. Keep them in mind when looking for a developer or designer to save you time and money.
Read More »